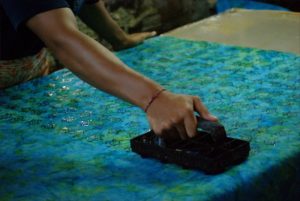 Rum Reggae men's and women's clothing is as unique as the handcrafted process employed to create it. Batik, an ancient Indonesian art form using waxing, dyeing, boiling and sun drying treatments of natural cloths, brings our vibrant prints and colors to life. On the exotic Indonesian "Spice" Islands of Java and Bali are factories using this traditional handicraft method that has been practiced for thousands of years. We have updated and modified the process, but essentially it is still the same wax-resist-dye method developed by artisans in the tropical jungle villages and cities of antiquity.
Craftsmen carve and sculpt wooden or copper hand stamps that are used to apply liquid wax called "madu malam" or "night honey" to fabrics such as 100% woven or knit cotton or woven rayon which have been dyed in a hand operated wooden "V" shaped dye jigger. It is then sun and wind dried to undergo another waxing and dyeing stage, and the process is repeated until all the colors required for the print have been achieved. Other processes such as "multi coloring" or a treatment rendering a "marbled" or "smoky" effect to the cloth can be achieved by wetting and bunching fabric, then squirting various colored dyes, or one color only, from containers onto it, waxed and dyed a solid color or bunched and squirt-dyed again to achieve a "double multi" effect.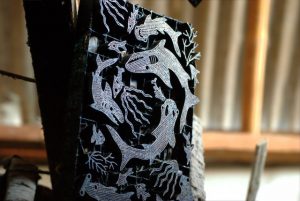 These hand applied methods of production guarantee that no two pieces are going to look exactly alike or mass produced, although there is a high degree of production coherence. Every garment is a one-off, beautiful piece of wearable art that differs slightly from other pieces in the same motif and color, and of which only the person who purchases it has exactly that copy. Check out the matching pockets on the men's and women's wovens. You'd hardly know that there were pockets on them. The best quality imported cottons and dyestuffs and "super softener" are used in our production, this gives all our fabrics the right balance between a velvet smooth hand yet a reassuring integrity to the feel of the cloth.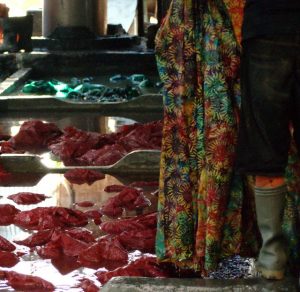 Rum Reggae garments defy being pigeon-holed or categorized as a specific type of apparel. They can have a South Sea islands flavor to them but they are not "Aloha" shirts, dresses or tops. They are vibrantly colored without being over-the-top loud or self-consciously overstated. Subtlety rather than blaring or daring is a key characteristic. Rum Reggae may have a surf-oriented motif or theme and be carried in surf shops, but it is not necessarily a surf brand. Our large and versatile variety of prints in several creatively explored themes such as resort, dive, sport fishing, marine and sail, floral and Hawaiian and Western is our strength.
Because we use handicraft methods and because the repeating pattern on the fabric depends on what particular hand wielded "chop" or stamp the artisan chooses, we can offer a multiplicity of print choices. In this way over the past twenty five years, R.R. has become something of a cult that attracts loyal followers from several different marine based activities, or just people who like to hang out and have a good time. A typical Rum Reggae collector has at least half a dozen to a dozen pieces in different prints in his or her wardrobe. The product is skewed toward the more mature lady or gent but the younger wearer isn't out of the picture by any means.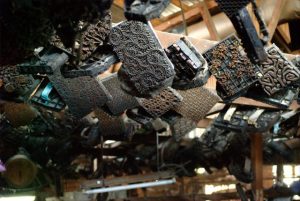 Rum Reggae is carried in boutiques, menswear stores, resort hotels and clothing stores, chandlers, fishing apparel stores, small department stores, chains, dive shops and surf shops, even big men's stores – everywhere the sun shines brightly from Florida and Texas to The Caribbean, California, Hawaii, even New England summers, Queensland, New South Wales, Western Australia, The Northern Territory, the A.C.T. and of course, Bali. Our retail customers range from stores such as the Aloha Shirt Shop in Hawaii, an up market Hawaiian super boutique, Ron Jon's Surf in Florida, a surf department store, Malibu Dive in California, dive shop to the stars, King Size Menswear, an Australian chain of big men's stores and Reef City in Queensland in Australia, a tourist menswear store in Cairns near the Great Barrier Reef. Sogo Department store is our main retailer in Bali nearby several of our hotel boutique customers located in the up-market tourist hotel, villa, golf course and restaurant precinct of Nusa Dua on the Southern tip of the island. These are a representative handful of many, many hundreds.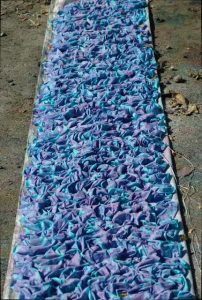 Our "specialty" garments is an area that has grown steadily and surely for us over the past eight to ten years. We make custom pieces such as men's shirts and women's tops for specific purposes such as events or uniforms for companies and organizations as disparate as dentist conventions and beer companies, university fraternities and Hawaiian coffee producers. We have supplied garments to businesses and groups as different as Budweiser and Microsoft, Airbus, Rotary and Lions (the list goes on and on), and at a reasonable minimum of 48 pieces we will supply your company with its own specially designed Hawaiian flavored shirts or tops.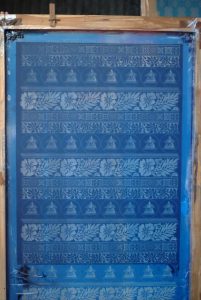 For our custom work we use both batik and screen processes. The silk screen approach is still very much a handicraft method with hand applied inks and hand dyed backgrounds; many batik methods such as multi coloring are used in its execution. The screen application provides a more detailed finish for company logos and names, and prints in general. We ask customers to send their logo and any artwork and text that may be needed on the garment. We then create and send them a mock-ups to approve or to which to suggest adjustments. When, and only when, the customer approves the mock-up, do we go ahead with the screens or stamps, and the order. Most of our specialty items are 100% cotton men's and women's shirts and tops. Delivery times for both our core batik line of art-wear and our specially created custom items are the same at about 6-7 weeks.
As prices vary so much depending on shipping methods and whether you are a wholesaler or retailer, please contact us at rumreggaebali@gmail.com or directly from this site. If you are a retailer or specialty customer we deliver direct to your door using Express Mail Service. If you are a wholesaler, we ship to you through our cargo agents.
Call us on cell phone +62 361 81 353 155 181 or land line +62 361 288 639.
Become one of the many successful agents or retailers selling our fun and artistic line. After all, fun and art is what we sell. As the arty and quirky swing tag says: "Rum Reggae, Let De Good Times Roll".
As young arts degree students and travelers on the "banana pancake trail" in the 70's and 80's we first went to Indonesia and fell in love with its teeming and rolling oceans, its imposing and dramatic volcanoes, verdant rice paddies, friendly laughing people and fascinating art and handicrafts. We are still going there today to bring our customers and distributors all over the globe these beautiful, art filled modern manifestations of a wonderfully colorful and clever tradition.